Sheepadoodles Puppies
What is a Sheepadoodle?
If you're looking for an adorable pet that's smart, loyal & lovable, the Sheepadoodle is a great fit!
A Sheepadoodle is a breed that is a mix of a Poodle and an Old English Sheepdog. Sheepadoodles are ideal family dogs and great with children and other pets. Known as a healthy breed, they love the outdoors and have an affinity for water.
Although Sheepadoodles would not be considered a watchdog, they are very loyal and protective of your home and family.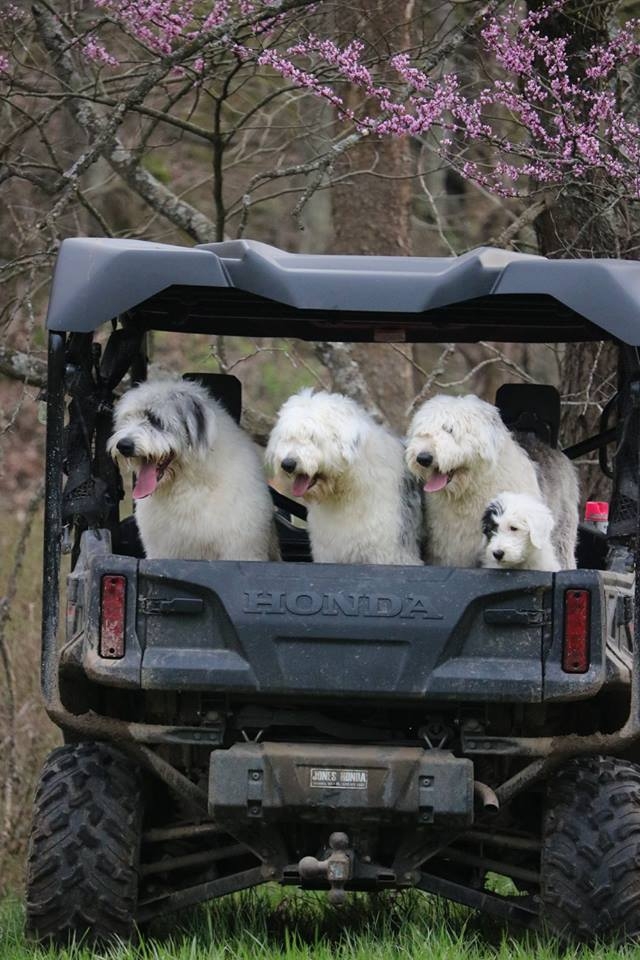 Are Sheepadoodles Hypoallergenic?
Yes! Sheepadoodles are hypoallergenic and shed very little. Sheepadoodles take on the good characteristics of poodles and sheepdogs, making them low shedding & hypoallergenic, or allergy-friendly.
Sheepadoodle Coloring & Characteristics
They are blessed with a soft and curly coat, which is normally black and white in color. Some of the sheepadoodle puppies can be all-white or all-bl
ack but it is less common. Other puppies have a patch of black or white around one or both eyes, making them look like panda bears!
How Big Are Sheepadoodles?
Sheepadoodles puppies are small and adorable but as they move into adulthood, they range in size from 18 to 80 pounds, depending on the breed. There are standard, mini, and micro or tiny sheepadoodles. We breed all sizes and have litters from each category at different times.
Standard Sheepadoodles - 45 to 80 pounds
Mini Sheepadoodles - 25 to 45 pounds
Micro or tiny Sheepadoodles - Less than 20 pounds
Sheepadoodle Temperament
Sheepadoodles are ideal family dogs. They are very calm, intelligent and obedient. Most sheepadoodles get along well with other dogs or pets as they are not overbearing or domineering. If you are looking for a social breed that is calm, loyal and great with kids, the sheepadoodle is a great option for your family.
Sheepadoodle Generations - What is F1, F1B?
F1, F2 or F3 are generational categories that describe the breeding of sheepadoodles. Each category has different characteristics.
F1 Sheepadoodle: Old English Sheepdog X Poodle
F1b Sheepadoodle: F1 Sheepadoodle X Poodle
F1bb Sheepadoodle: F1b Sheepadoodle X Poodle
F2 Sheepadoodle: F1 Sheepadoodle X F1 Sheepadoodle
F2b Sheepadoodle: F1 Sheepadoodle X F1b Sheepadoodle
F3 Sheepadoodle: F1b Sheepadoodle X F1b Sheepadoodle
What kind of food do you recommend for my puppy?
We strive to be the best sheepadoodle breeder in the nation. To meet that goal, we feed our dogs and puppies Royal Canin. Due to our special relationship, we are able to offer a special deal on your first supply of puppy food.
Sheepadoodles Litters For Sale
Mini-Captian/Laura
Breed: Sheepadoodles
Availability: Available For Purchase
Litter Expected: 11/15/23
Price: $3,500.00
Laura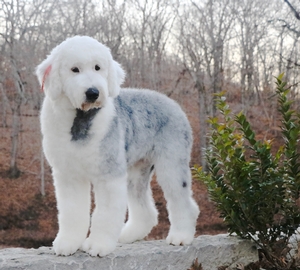 Captain America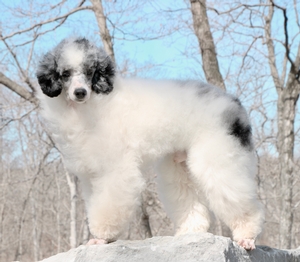 We are tentatively expecting a litter of mini sheepadoodles in mid November. Take home for this litter will be January! Accepting deposits for the next available of this litter now!