Top 5 Reasons to Buy a Sheepadoodle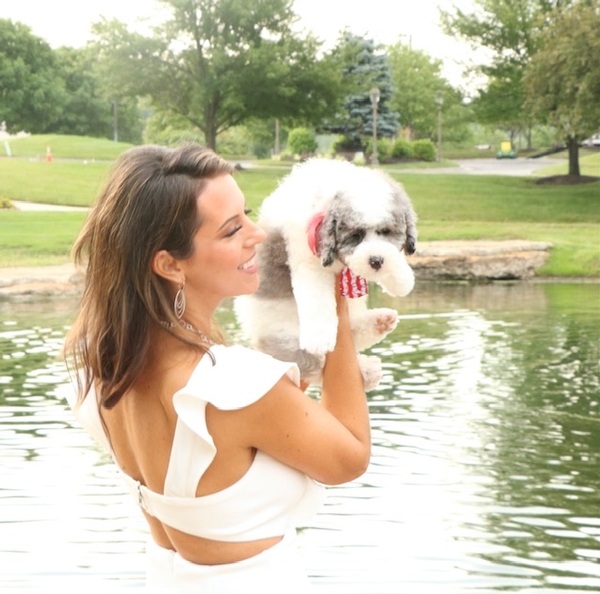 Congratulations! You're in the market for a new puppy. And not just any puppy, you're wanting to buy a Sheepadoodle. We may be biased, but we think you've made the right choice! Of course, all breeds are different and will all have their own gifts to offer their humans. But we want to show you the top 5 reasons to buy a Sheepadoodle, so you can be sure you're making the perfect choice for you and your family.
#1 Reason to Buy a Sheepadoodle - They're Hypoallergenic
Let's go with the obvious first, one thing that makes Sheepadoodles so popular is that they're hypoallergenic. Yep, it's true. They may be fluffy, but they take on the best characteristics of both their breeds, the Sheepdog and the Poodle. Which means, they shed very little if at all and won't wreak havoc on your allergies. No more cleaning up dog hair all over the house. And sorry, Mom and Dad, can't use your "allergies" as an excuse anymore.
Be sure to take great care of those hypoallergenic coats, they need lots of care to stay clean and fluffy and free from outside particles that can aggravate your allergies.
#2 Reason to Buy a Sheepadoodle - They're Great Companions
Just like their humans, not all dogs are created equal. So their temperaments, of course, will vary. The great news is, Sheepadoodles are on the good end of the spectrum in terms of their temperament. Sheepadoodles love their humans and are very playful, just like dogs should be. All of these traits make them the perfect companion. They'll want to be outside, go for walks, play fetch, you name it, but they're also down to cuddle.
Sheepadoodles are great with kids, they're calm and loving and, we must reiterate, they love a good cuddle. Kids tend to bring dogs lots of attention and Sheepadoodles love attention, so they make a great team!
#3 Reason to Buy a Sheepadoodle - They're The Perfect Size
What makes Sheepadoodles a great pet, is that they're always the perfect size dog. How can that be? Well, depending on the breed, Sheepadoodles will vary in size from 18 to 80 pounds. The breeds you can choose from are Standard, Mini and Micro/Tiny.
Standard Sheepadoodles - 45 to 80 pounds
Mini Sheepadoodles - 25 to 45 pounds
Micro or Tiny Sheepadoodles - Less than 20 pounds
If you're the kind of person that likes to carry your pup around in your handbag, you're going to go for the Micro/Tiny. If you want the big fella to go on hikes with you, the Standard is your guy. And if you're a little in between, well, the Mini is right up your alley. So no matter what your lifestyle is like, you can pick the Sheepadoodle that is the perfect size for you and your home.
#4 Reason to Buy a Sheepadoodle - They're Good Protectors
If you're looking for a dog to make you feel safe, Sheepadoodles, again, are a great choice. Yes, they're friendly and playful, but if they feel a threat, they're the dog you'll want. They act as good guard dogs because they'll alert you to a potential threat and will be there to protect you if needed. Sheepadoodles are loyal to their humans and don't want to see anything happen to you. Since they're very smart, they can definitely be trained on how to better alert and protect you.
#5 Reason to Buy a Sheepadoodle - They're Smart
As we mentioned before, Doodles are one of the smartest dogs in the world. Which means Sheepadoodles will continue that lineage. Their brains make them very trainable to do whatever your heart desires. If you need them out doing work on the farm, they're capable. If you just want them to shake and roll over, they're capable. Being brainiacs, this makes them an obedient breed. They'll listen to commands and do as they're told. Of course, all of this requires the proper training. But once you've put in the time, you can rest assured that Sheepadoodles are definitely smart enough to carry out all those commands.
Should I Get a Sheepadoodle?
We hope these top 5 reasons to buy a Sheepadoodle have convinced you that Sheepadoodles are the most versatile breed on the market. Which means, you can find the right breed, size and temperament to fit your lifestyle and you can guarantee that you'll always have a friendly companion at your side.
Where Can I Buy A Sheepadoodle?
It's important to find a quality sheepadoodle breeder. We are a boutique farm focusing only on Standard and Mini Sheepadoodles and Purebred OES. Our motto is "quality not quantity". We do not condone puppy mills and that is why we only raise smaller quantities. This allows us to be hands on from the day the puppies are born all the way until we deliver the puppy of your dreams into your arms. Our goal is that each puppy is of the utmost health and is socialized early to trust and desire human interaction. You can check out our upcoming litters of adorable Sheepadoodle puppies.
Posted in: News